Whoo-whoo wears wool in spring?
This girl does.
But if you're going to have to wear your winter woolies when spring has already sprung, it might as well be something you totally completely love.
I made this owls pullover back in the fall of 2009, and I still love it to pieces.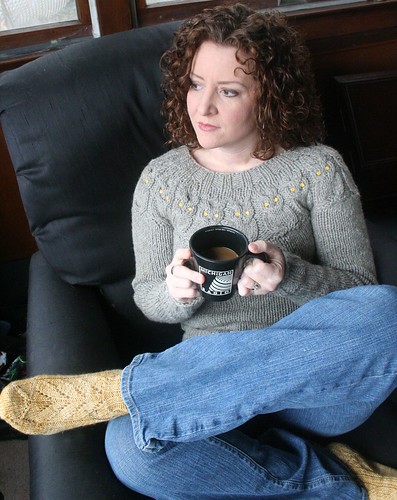 (pictured here with TTL Mystery Socks 2009, my Michigan Radio mug, and much shorter hair)
My favorite owl is the one on the back, with purple eyes:
They look pink in this pic, but they really are purple – I should have included this handknit in my recent roundup of my obsession with purple+gold.
I tend to gravitate towards making raglan sweaters, but I've realized lately that I really, really like wearing yoked sweaters. I think the only yoked sweaters I've made for myself are this one and Zelkova, and now I'm wondering why, because both Owls and Zelkova are two of my very favorite sweaters.
Which kind of sweater do you tend to want to knit – raglan, yoked, set-in sleeves? And which do you think is most flattering on you?